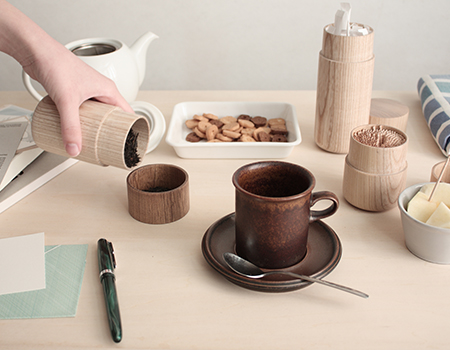 Wood Turning is one of the traditional craft technique of Yamanaka Shikki (lacquer ware in Kanazawa Prefecture), using solid pieces of wood to form shapes. 'Soji' means 'the plain wood' before lacquer applied and this series features the beautiful character of the natural wood. 'tutu' stands for 'the cylinder' and it is basically a canister, however it can be used not just for teas, but also sugar sticks, food picks and etc. Soji item has simple shape with warm texture that is perfect for everyday use, and you will enjoy the beauty of wooden surfaces that are all unique. There are 3 sizes and 3 colors each to choose from.
col. Soji tutu (M)
Design MUTE
Manufacturer HATASHIKKITEN
[Price]

JPY 8,000

[Size]

Diam.62 H.105 mm

[Material]

Castor Aralia (urethane coating)
HATASHIKKITEN

Hatashikkiten was established in 1930 by Hata Unomatsu, who was himself a craftsman of Yamanaka Shikki (lacquer ware). Commitment to quality, selection of materials without compromise and masterful techniques have all been passed on until today. From daily use to special occasions, the products feature sturdy yet practical construction as well as simple yet modern design. Each one is hand made by a skilled craftsman and the company earns its high reputation from a wide range of customers.