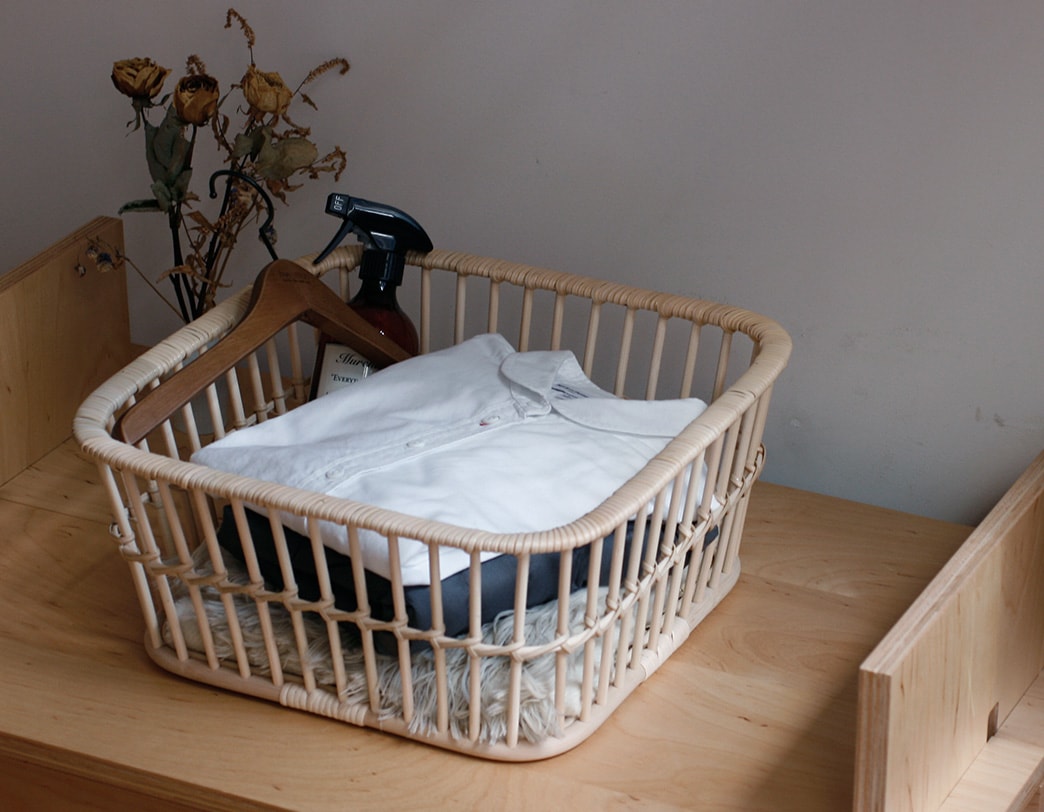 Hairu series was born from the collaboration of Rina Ono's design and handwork by Tsuruya Shoten, a company continues producing rattan furniture since 1907.
In Japan, rattan basket has been traditionally used in the house, however it was quite large for the modern lifestyles. This series remains its detail of the rattan basket, but is resized in a compact shape with carefully selected material which has beautiful natural rattan surface. Its light weight and charming impression fit perfectly in modern living space. It can be put aside of sofa or bed, laundry space, under the table or anywhere you like to store the object as blanket, magazines, toys and etc.
The traditional basket was wound and woven to make it stronger, but Hairu is using simple thick rattan as a frame and values its natural and gentle texture. The "Deep Basket" is 18 cm high which is useful in the bathroom to put towels or clothes in, or in the living room to store toys. There are other variations as "Shallow Basket" and "Basket With Legs" which is 60 cm high.
Hairu Deep Basket
Design Rina Ono
Manufacturer Tsuruya Shoten
[Price]

Oval JPY 13,500
Square JPY12,800
Round JPY12,000

[Size]

Oval W. 500 D. 400 H. 180 mm
Square W. 400 D. 400 H. 180 mm
Round Diam. 400 H. 180 mm

[Material]

Rattan (Natural Finish)
About Material
Because of the rattan's nature, it might shrink depends on temperature or humidity, and because it is handmade, there are individual differences in size. There might be knots or other marks as it is natural material.
Rina Ono

Born in Miyazaki Prefecture. After graduating from the Department of Product Design at the Tohoku University of Art and Design in 1997, she worked at design offices and graduated from the graduate program in Product Design at the same university in 2001. In the same year, she studied abroad at the Konstfack University College of Arts, Crafts, and Design in Sweden. In 2002 she began working as a departmental assistant at the Department of Product Design at the Tohoku University of Art and Design and became freelance in 2007.
Tsuruya Shoten

This processing manufacturer of rattan products was established in Yamagata Prefecture in 1907. Ever since their founding, they have been committed to domestic production, and their strengths include careful hand-work by experienced craftsmen and non-coated finishes. They have an established reputation for reliable manufacturing that is accepted both domestically and abroad.