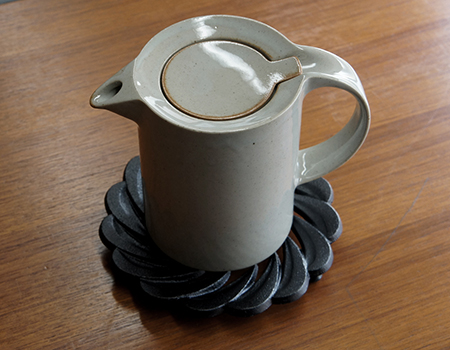 This pot stand was one of the revived items for the Mosuke Yoshitake's memorial exhibition in 2005. The series was his first design for the traditional Yamagata casting. Those were designed in organic shapes, with thin edge and beautiful texture made by highly skilled casting techniques. With lacquer baking finish on the surface, it is a small art piece.
Pot Stand Petal
Design Mosuke Yoshitake
Manufacture Chushin Kobo
[Price]

JPY3,000

[Size]

Diam.150 H.20 mm

[Material]

Iron
Chushin Kobo

Established by Hisanori Masuda in 1997, Chushin Kobo specializes in Yamagata iron casting. The workshop produces originally designed items and revives items designed mainly in the 1960s by the Master Mosuke Yoshitake, and offers the traditional beauty of cast iron for use in the modern lifestyle.